Sheikh Mohammed Bin Rashid Al Maktoum, Vice President and Prime Minister of the UAE and Ruler of Dubai, has inaugurated the Mohammed Bin Rashid Library, a new cultural beacon in the region.
Built with an investment of Dhs1 billion, the library aims to cultivate a culture of reading, while supporting the development of creativity, knowledge and art at both individual and social levels.
It will provide a platform for intellectual, literary and imaginative minds across the region and the world.
Sheikh Mohammed said: "Today we launch a cultural and intellectual edifice for our new generations, through which we aim to promote reading, spread knowledge and support researchers and scientists … Our goal is to illuminate the human mind."
He added: "The economy needs knowledge … politics needs wisdom … nations need to learn … and all of that can be found in books. Through this library, we have brought together millions of books to develop our path, consolidate our identity, culture and roots … and create our future."
It has been designed in the form of a wooden stand known as a 'Rahl', with a total area of 54,000 square metres, creating a stimulating environment that advances the cultural and creative landscape in the country and providing access for all social segments, including youth, children, government and private institutions, writers, researchers, thinkers and artists. It also welcomes readers and literary and intellectual personalities from the region and the world.
The Mohammed Bin Rashid Library has nine specialised libraries including The General Library, The Emirates Library, The Young Adults Library, The Children's Library, The Special Collection Library, The Maps and Atlases Library, The Media and Arts Library, The Business Library and The Periodical Library.
In addition to paperback books, the library provides access to a wide range of e-books and other digital media, and access to millions of books, information sources and pieces of content from around the world.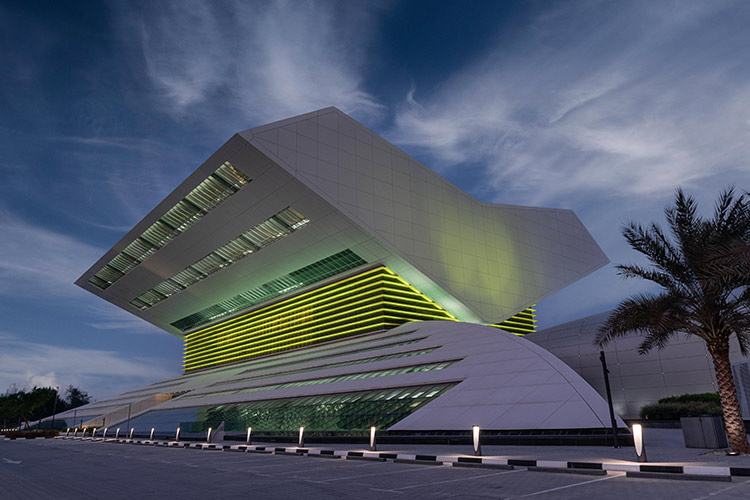 Innovation and Sustainability
The Mohammed Bin Rashid Library's facilities, which use the latest technology and artificial intelligence, include an automated storage and electronic book retrieval system, self-service kiosks, a book digitisation laboratory, and smart robots to respond to visitors' inquiries, in addition to augmented and virtual reality technologies, among others.
It is also an environmentally friendly library that has adopted the highest standards of sustainability, as it gets 10% of its energy from solar panels installed on the roof of the building. The external structure is designed to insulate the building's interior, reduce heat gain, and help regulate the building's internal environment.
The library, which is strategically located in the centre of the city, has natural lighting thanks to the ceiling windows in the building, and is designed to reduce water consumption by 50%. Water is recycled from air conditioners to irrigate green spaces.