YouTube is introducing new products that will allow learners to go deeper on subjects they are passionate about and creators to provide structured learning content.
Introducing Player for Education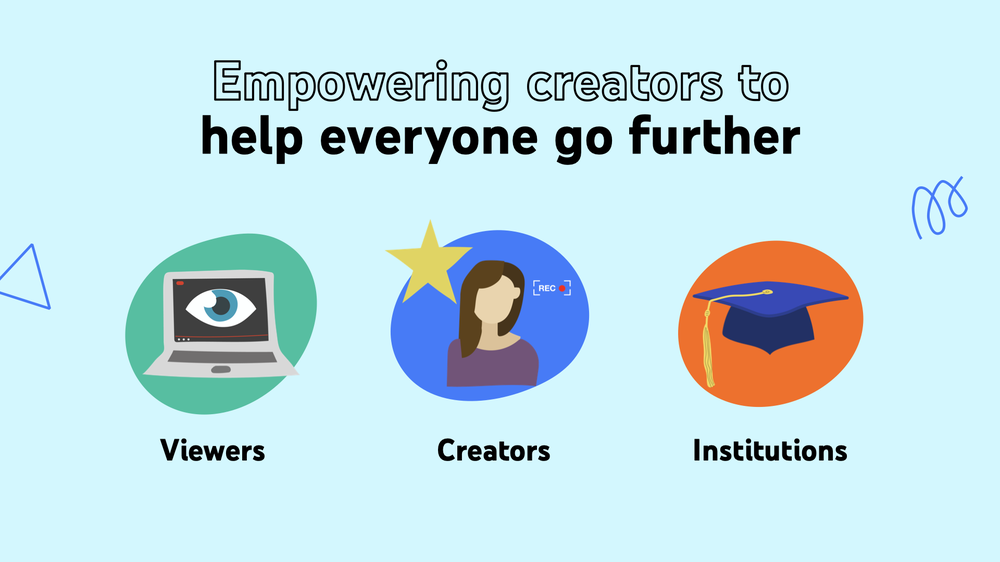 To improve the YouTube experience in educational environments, we're launching YouTube Player for Education — a new YouTube embedded player that shows content on commonly used education apps without distractions like ads, external links or recommendations. To start, we are partnering with established edtech companies in the U.S. including EDpuzzle, Purdue University and Purdue Global. YouTube Player for Education will also improve upon the existing YouTube embedded player in Google Classroom for an even better YouTube experience.
"Everyday, teachers and students across the globe are using YouTube to learn, and YouTube Player for Education will help further learning in educational settings by allowing students to engage with new subjects distraction-free. We're excited to be an early partner with YouTube to offer Player for Education and further EDpuzzle's mission is to help students learn through video." – Quim Sabrià , CEO and Co-founder, EDpuzzle, Inc.
Making learning more interactive on YouTube
Next year, qualified creators can begin offering free or paid Courses to provide in-depth, structured learning experiences for viewers. Viewers who choose to buy a Course can watch the video ad-free and play it in the background. Courses will arrive first in the United States and South Korea in beta before expanding to more countries.
"Learning a new skill, like how to code, can be so difficult — from knowing where to start to where to go next — it's a lot for someone to do on their own, and it's easy to get lost. On my YouTube channel, Coder Coder, I've helped millions of viewers learn how to code and stay motivated throughout their coding journey. I'm so excited to be able to offer my viewers Courses, to help bring more even structure to their learning, provide exclusive content and, ultimately, enable them to be even more successful in their careers." – Jess Chan, YouTube Learning Creator and founder of Coder Coder
Quizzes

Finally, to help learners apply what they've learned, we're introducing Quizzes — a new way for creators to help viewers test their knowledge. For example, a math creator who recently posted a series on algebra can create a Quiz on the Community tab to ask their viewers a question related to a concept taught in their latest video. Quizzes will roll out in beta over the coming months, with all creators who have the Community tab gaining access to Quizzes next year.
Learning remains a top priority for YouTube. Just this year, we introduced an option for creators to add metadata that allows them to target their content to specific grade levels and topics. We've also added a Ukrainian version of the Learning destination to help ensure that Ukranians have access to important educational content, even as the war continues. Our goal is to keep making learning easier on the platform for everyone in the community, whether that be creators, students in classrooms, or learners around the world. Whatever you want to learn next, we want YouTube to be there for you.
Source : Learning on YouTube