As President Donald Trump threatens to declare a national emergency over immigration in the U.S., the country's northern neighbor, Canada, is prepared to welcome more than 1 million newcomers over the next three years.
The Canadian Parliament detailed its plans to add hundreds of thousands of permanent residents each year from 2019 to 2021 in its 2018 Annual Report to Parliament on Immigration.
The graphic below by Statista illustrates the Canadian government's immigration plans.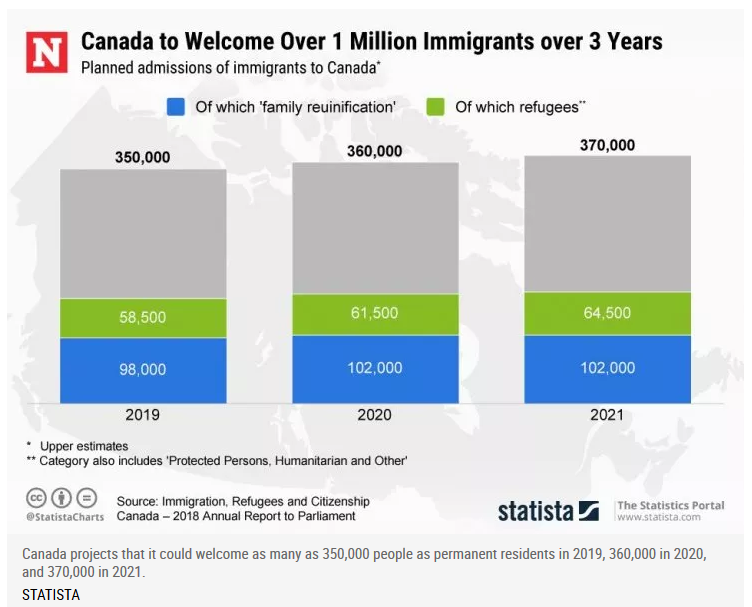 Outlining Canada's immigration goals for 2019-2021, the annual report states that "under this plan, Canada will welcome more talented workers with the skills and expertise our economy needs, reunite more family members and accommodate more refugees looking to start new lives."
In 2017, Canada admitted 286,479 permanent residents, according to the report, and in the years to come, the country expects those numbers to grow.
Under its new "immigration levels plan," Canada projects that it could welcome as many as 350,000 people as permanent residents in 2019 alone, with 176,000 of those being "federal economic and provincial/territorial nominees, 89,000 being admitted under its family reunification program, and 58,500 being welcomed as refugees, protected persons or for other humanitarian reasons.

In 2020, the number of admissions is expected to increase to 360,000 before rising again in 2021 to include 370,000 people.

මෙවන් වැදගත් තොරතුරු දැනගැනීමට Lanka V News facebook පේජ් එක කරන්න.